Rustic pallet furniture is fun to make, adds charm and won't cost you an arm or leg. 
If you have some old wooden pallets lying around the yard, or simply like to get creative, then you're in luck. Making furniture and other household items out of wooden pallets is so easy, and something of a craze.
Whether you want a new chair for your patio, a coffee table, or are planning a vegetable garden, wooden pallets are the way to go. You can pick them up second-hand from pallet suppliers for a fraction of the cost of new ones, and save yourself a bucket-load of cash by avoiding expensive furniture stores.
Not only is creating pieces out of pallets fun and cost-effective, it keeps the environment happy. Each item you make from a pallet is recycling; re-using what already exists instead of buying brand new pieces. So give yourself a pat on the back, pick up that hammer and get to it!
Pallet Chair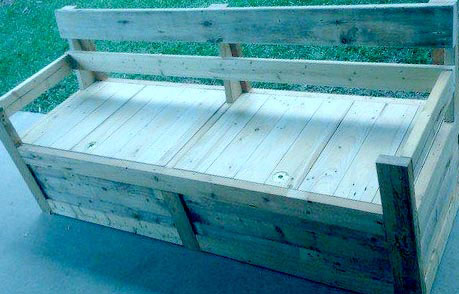 You may need to build the frame out of sturdier wood depending on the size of your chair. If you are aiming to produce a two-seater chair or couch, more support will be needed, especially in the middle so it doesn't bow or break when you sit on it.
Use the top and bottom deck pallet boards for the seat and back of the chair, and also for the arm-rest. Logo markings and colour variation of the boards due to wear and tear adds that rustic look. Add some funky cushions and a throw rug and you're ready to kick back with a coffee and a good book.
Coffee Table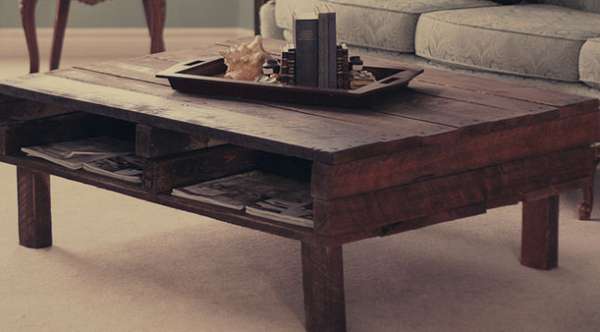 You can make your coffee table as simple or intricate as you like, the choice is yours. Here are a few options:
Pulling the boards off the pallet frame will allow you to put them back together side-by-side, adding boards from the bottom deck to fill in the gaps. Fashion your frame out of pallets or wood of your choice.
Take a sturdy pallet as is, sand it back so there are no rough bits and either stain or paint it to give it some style. If you're weary of the gaps between the boards, have a piece of glass cut to size for a shiny new table-top. Attach castors underneath all four corners, or legs of your choice. For a higher table, simply stack two pallets and secure them together.
Go nuts wrenching the pallet apart, incorporate other woods and put them back together as you see fit. The only limit is your own imagination!
Garden Bed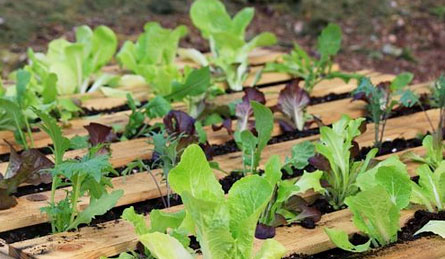 This one's a no brainer. Follow these simple steps for a quick and easy garden bed:
Take one pallet
Lay it on the ground where you want to position your garden bed.
Fill with soil and appropriate fertiliser.
Plant your veggies.
Enjoy!
There really are so many pieces you can make out of wooden pallets; this is just the tip of the pallet stack. Put your thinking cap on, get creative and have fun; the sky (or warehouse ceiling) is the limit!
Another option is to sell your old pallets to us, rest assured we'll put them to good use and you will even get some cash for them!
Must Read
Plain Pallets on 29 April 2014
Do your pallets go the distance? If not, you may be losing money through replacement costs and damaged goods. Get the most out of your pallets ...
Read more
Plain Pallets on 11 March 2014
Pallets are always useful. See the many ways old pallets can be reused. Who knows, maybe your next house or business will have some great pallet furniture! ...
Read more