What Should I Pay for Pallets? – Pallet Pricing Guide
Pallets are one of the most important pieces of inventory for factories and warehouses all over Australia. Businesses everywhere need cheap custom pallets for storage and transportation of their goods.
Because pallets are a necessity price is a determining factor for businesses. At Plain Pallets, we supply Melbourne businesses high-quality affordable pallets at competitive prices. And we're upfront about our pricing.
See our pallet prices below or call our team on 03 9545 7344 to make an enquiry.
Pallet Prices:
|   | Lower price range | Upper price range |
| --- | --- | --- |
| | $19 | $24 |
| | $10 | $18 |
| | $10 | $28 |
| | $10 | $45 |
| | $10 | $150 |
The above list shows our indicative price ranges per pallet. To get a quote for your order, get in touch with our team.
We are committed to providing industry leading affordable custom pallets for a wide range of applications and industries. All our pallets meet and exceed Australian and intentional standards.
Discounted pallet prices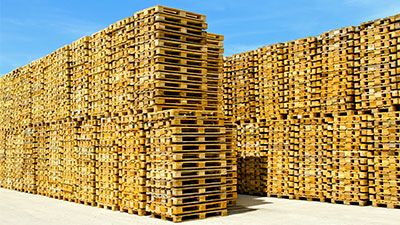 In some instances, we may be able to offer a discount on our pallet prices. These include:
Bulk orders – We can offer a discount of up to 50 cents per pallet for bulk orders of 400 or more pallets.
COD payments – We can also offer a discount if you choose to pay for your order with cash on delivery rather that with a 30 day account.
Our prices are competitive for our high-quality pallets. With these additional discounts, our pallets offer exceptional value for money.
Choose your cheap custom pallet supplier carefully
While price is an important consideration for businesses, you should beware of cheap pallet prices that are too good to be true.
You must ensure that any pallet supplier you purchase from has full public liability insurance and is a licensed second hand dealer if you are buying second hand pallets. Choosing a reputable business may have a higher initial cost, you will likely save on the cost of damaged goods.
At Plain Pallets, we offer high quality, fully insured custom pallets at a competitive price. We have a long history of providing excellent customer service and fast deliveries.
For more information or to get a quote, call our team on 03 9545 7344.
At Plain Pallets, we don't sell pallets to make bed bases. Pallet bed bases are neither safe, nor sanitary. Find out more about the hazards here.
Must Read
Plain Pallets on 29 April 2014
Do your pallets go the distance? If not, you may be losing money through replacement costs and damaged goods. Get the most out of your pallets ...
Read more
Plain Pallets on 11 March 2014
Pallets are always useful. See the many ways old pallets can be reused. Who knows, maybe your next house or business will have some great pallet furniture! ...
Read more