What are the Benefits of Steel Pallets?
Steel is an incredibly strong and durable material. It's used to build cars, skyscrapers, and tools. But steel is also perfectly suited for making pallets.
All the properties of steel which make it useful as a building material are also useful properties for pallets. This makes steel pallets an essential part of materials handling for many industries.
Here are the benefits and advantages of using steel pallets instead of other types of pallets.
The benefits of steel pallets
Steel pallets are designed to be a robust and durable option for industries with specialist materials handling needs. Using steel to construct pallets means that they are much stronger than regular pallets, they are easy to sterilise, and do not rot or carry pests.
The benefits of steel pallets include:
High load capacity
Longer lifespan
Hygienic and easy to sterilise
Easy to stack
Can be exported without quarantine issues
Corrosion and weather resistant
Recyclable
These benefits make steel pallets extremely useful to a wide range of industries.
Steel pallet product details
Our steel pallets have the following specifications:
Dimensions: 1,200mm x 1,000mm
Capacity: 2 tonnes
Find out more about our steel pallets.
Steel pallet industry applications
Steel pallets are extremely useful for a wide range of industries which need very strong pallets for heavy duty uses or pallets which are not made of organic material.
Industries that use steel pallets include:
Construction – Large and heavy materials must be moved and stored on strong pallets.
Chemical industries – Requires pallets to withstand harsh environments and be safe to use in the production and storage of chemicals.
Long term outdoor storage – Pallets must be weather proof for outdoor materials storage.
Food preparation and handling – Pallets need to be easily sterilised so they do not contaminate food during production or storage.
Export industries – Pallets must not carry pests and must be ISPM 15 compliant.
There are businesses in all kinds of industries which require the unique advantages of using steel pallets.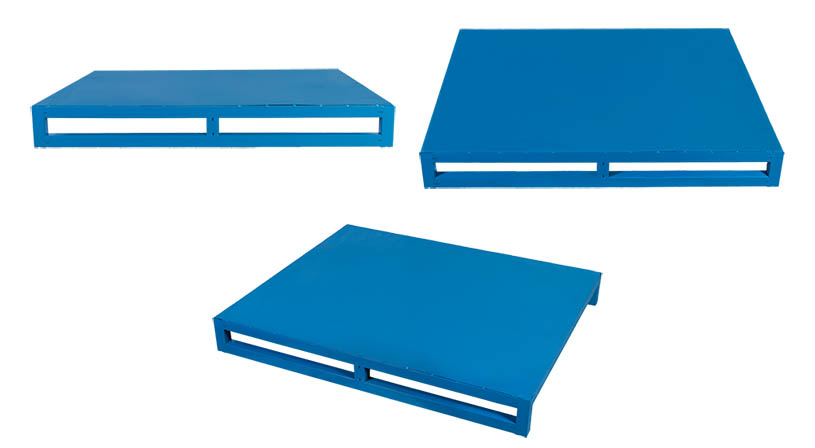 Steel pallet pricing
Because of their material and specialist applications, steel pallets are [slightly] more expensive than other types of pallets. Depending on the details of your order, prices range from around [$X] to around[$Y].
Please note: this information is for illustrative purposes only and does not constitute a quote. To get a quote for your order, get in touch with Plain Pallets.
For more information bout pallet pricing, see our pricing guide.
Plain Pallets are your steel pallet suppliers
At Plain Pallets, we have a great deal of experience with all types of pallets. Whether you need steel, wooden, or plastic pallets, we can supply your business with high-quality pallets covered by our full public liability insurance.
For businesses within Melbourne, we offer next business day delivery on order placed before 1pm on a business day. We also deliver to regional Victoria and interstate.
To get a quote for your order, call the Plain Pallets team on 03 9545 7344.
Must Read
Plain Pallets on 29 April 2014
Do your pallets go the distance? If not, you may be losing money through replacement costs and damaged goods. Get the most out of your pallets ...
Read more
Plain Pallets on 11 March 2014
Pallets are always useful. See the many ways old pallets can be reused. Who knows, maybe your next house or business will have some great pallet furniture! ...
Read more