Upcycling versus recycling pallets
Pallet recycling and reuse is a popular process, not just among business owners, but for DIY warriors as well. Upcycling and recycling pallets are two distinct, but equally important methods for taking old pallets and turning them into something new.
This article will take a look at the differences between the two terms, offer some examples of each, and examine the positives of pallet reuse and recycling for individuals, businesses, and the environment.
Whether you want to upcycle or recycle your pallets, Plain Pallets is here to help. We are experts at refurbishing used wooden pallets for further use.
Upcycling pallets vs recycling pallets
Before we begin, it's important to understand the difference between upcycling vs recycling pallets. Here's how we define the two terms at Plain Pallets:
Upcycling pallets refers to taking the timber from old wooden pallets and turning them into a useable product that exceeds the value of the original.
Recycling pallets means to take existing timber pallets and either refurbish them for a second life as used wooden pallets, or to break them down into useable material.
If you have any questions about these terms, you can get in touch with the friendly customer service team at Plain Pallets. They are on call to answer any and all queries related to pallets.
The positives of upcycling pallets
Upcycling pallets means breathing new life into material that has until that moment only had one purpose — logistics. Pallet timber by nature is strong and solid, and is able to withstand tonnes of pressure and weight. This makes it an ideal material for construction, decor, and furniture-making.
Popular pallet upcycling projects include:
Erecting new timber fences
Building furniture like tables and chairs
Creating distinctive planter boxes
Adding industrial elements to home decor
Designing exciting new spaces, like bars and study nooks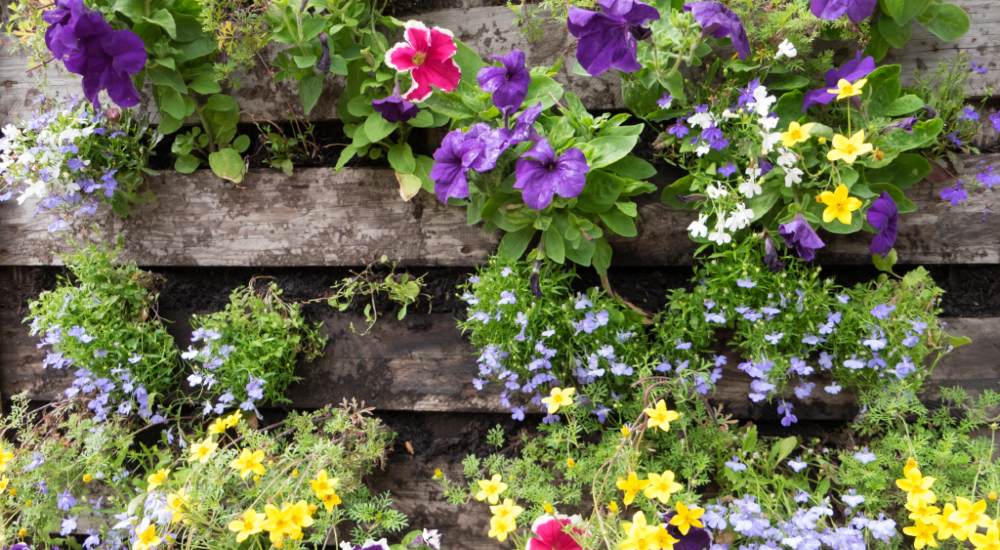 What's most important is that you're giving good a wood a second life. This creates less reliance on harmful logging, and will encourage others to do the same.
For more inspiration on pallet upcycling, check out our article on wooden pallet creations. We've also compiled some stunning pallet projects completed by students right here in Melbourne.
The positives of recycling pallets
Recycling pallets is a similar process with an inherently different outcome. By recycling pallets, you are renewing the timber for further use as it was originally intended — as a shipping pallet in logistical applications. 
At Plain Pallets, we refurbish old timber pallets and give them a new lease as used wooden pallets. These pallets are created from old materials to be just as strong and sturdy as what they previously were. Our Workmanship Guarantee assures that our work will be of the highest standard. If there are any issues with our used wooden pallets, we will replace them for free.
Recycling pallets not only saves on timber and time — it saves businesses money. By allowing us to refurbish your old, worn pallets, you won't have to go out and buy expensive replacements.
If pallets cannot be refurbished into used wooden pallets, they can be reused in other ways, including:
As mulch in gardens
As biofuel in power plants and generators
As animal bedding
As particleboard
As biofilters for stormwater drains
Cost-saving measures aside, recycling timber pallets clearly has a range of environmental benefits. These don't just end with the final recycled product, but positively impact the entire pallet supply chain.
The environmental benefits of upcycling and recycling
Whether you are upcycling to give new life to your pallet timber, or submitting pallets for refurbishment or recycling, there are many environmental benefits to reusing pallets, including:
Reducing logging of native trees
Cutting down on shipping and carbon emissions
Saving on water and mass wastage
Preventing unnecessary timber buildup in landfill
Decreasing energy consumption in the manufacturing process
If you'd like to learn more about what we can do to help the planet, check out our Environmental Policy. Otherwise, you can contact the friendly team at Plain Pallets. Our commitment is to you and the environment, and we'd be happy to give you information on anything you need to know.
Our team at Plain Pallets has the skill and workmanship to recycle your pallets as used wooden pallets. We can even turn them into free mulch for gardens.
Must Read
Plain Pallets on 29 April 2014
Do your pallets go the distance? If not, you may be losing money through replacement costs and damaged goods. Get the most out of your pallets ...
Read more
Plain Pallets on 11 March 2014
Pallets are always useful. See the many ways old pallets can be reused. Who knows, maybe your next house or business will have some great pallet furniture! ...
Read more