Understanding US Pallet Standards
No matter which country you're shipping goods to, it's crucial to follow their export guidelines. The United States of America has strict guidelines for pallets coming into their country.
Pallets exported to the USA should abide by guidelines that include the right shipping pallet dimensions. If your pallets are wooden, then heat or pesticide treatments are required.
USA export guidelines all come under ISPM15 regulations. So as long as the pallets you're sending abide by these regulations, your stock should arrive in America without being rejected by USA customs and border protection (CBP).
Contact Plain Pallets to order custom designed pallets for shipping your stock to the USA.
Pallet measurements
USA pallet standards include measurement guidelines to help improve freight handling to the country. Pallets with the right dimensions can easily be transported and transferred into American shipping containers, trucks, and warehouses.
It's also crucial to ensure the entry type for a pallet is correct. Pallets must have a 4-way entry to enable easy handling for USA forklifts. A 4-way pallet can be lifted from all sides by a forklift or pallet jack.
Pallet requirements for exporting to the USA
| | | | | |
| --- | --- | --- | --- | --- |
| Length | Width | Height | Max load capacity | Entry |
| 1200mm | 1000mm | 145mm | 1000kg | 4 Way |

Other US pallet standards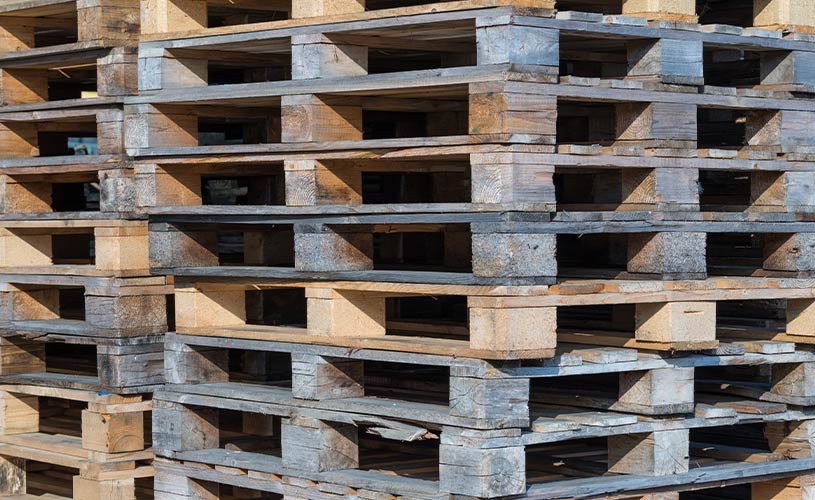 The ISPM15 has phytosanitary measures in place to ensure pallets don't carry unwanted diseases and insects. Without these measures in place, you run the risk of bringing in foreign contaminants that could negatively affect a country's ecosystem.
ISPM15 regulations also have strict guidelines in place for treatments used on pallets. Pallets need to be treated correctly in order to eradicate bacteria and insects that could carry diseases.
Thanks to their non-porous qualities, plastic pallets are less likely to absorb bacteria and pathogens that carry diseases. Alternatively, wooden pallets are more likely to absorb bacteria and pathogens.
Heat treatment is one of the most effective methods for eradicating bacteria and insects. It's a requirement for all heat treatments to heat the core of a pallet's wood to 56 degrees for a minimum of 30 minutes.
Internationally accepted treatments for ISPM15 regulations include the following:
| Treatment name | Procedure description |
| --- | --- |
| Steady Heat Treatment (HT) | A standard procedure that's conducted in a heating chamber. |
| Kiln-dried (KD) | Conducted in heating chambers with specific moisture standards |
| Mobile Heat Treatment (HT) | Mobile heat treatment that's conducted in heating chambers installed on trucks              |
| Portable Chamber Process (PCP - HT) | Heat treatment carried out in portable chambers made of thermal fabric. |
| Fast Container Connector (FCC - HT) | Heat treatment carried out in containers with mobile heating units. Commonly used for ports and terminals. |
| Methyl Bromide (MB) | Involves flooding a treatment chamber with gaseous pesticide. |
| Container Fumigation | Involves flooding a container with methyl bromide for a 24-hour quarantine period. |
| Tent fumigation | Pallets are covered with tent sealed to the ground with weight and filled with methyl bromide for a 24-hour quarantine period. |
AUS vs US pallet standards
It may seem odd, but not all countries share the same standards for pallet sizes. Pallet sizes were initially based on equipment available in particular countries. So whichever standards were decided on for forklifts would directly influence which pallets were used for particular countries.
Comparing USA to Australian pallets, you'll only find a difference in dimensions. Max load capacity and entry points stay the same. The length, width, and height requirements of both pallets can vary.
|   | Exporting to the USA | Exporting to Australia |
| --- | --- | --- |
| Length | 1200mm | 1100mm |
| Width | 1000mm | 1100mm |
| Height | 145mm | 150mm |
Where to order custom pallets for exporting to the USA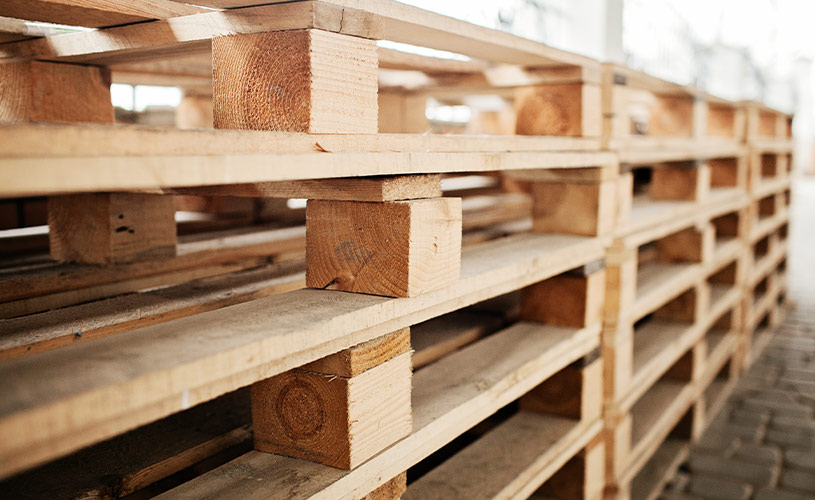 To export your goods to the USA or Australia, they must be securely stored on pallets compliant with national and international standards. If your pallets do not meet shipping standards for the country they arrive in, they may be refused entry.
To safely ship your goods overseas or back into Australia, choose a reliable pallet supplier. At Plain Pallets, we ensure our pallets are made to all specifications set out in the ISPM15 regulations.
Over our 40 years of operation, our pallets have never been refused entry to port. And we don't just cater to countries like the USA. We can design and produce custom pallets for shipping your products to all corners of the globe.
For more information on US pallet requirements, call Plain Pallets on 03 9545 7344 or get a quote.
Must Read
Plain Pallets on 29 April 2014
Do your pallets go the distance? If not, you may be losing money through replacement costs and damaged goods. Get the most out of your pallets ...
Read more
Plain Pallets on 11 March 2014
Pallets are always useful. See the many ways old pallets can be reused. Who knows, maybe your next house or business will have some great pallet furniture! ...
Read more