Understanding the pallet recycling process
Pallets are an important part of many businesses. New pallets are arriving all the time, and some business owners don't know what to do with them. All too often they pile up in the corner of a warehouse. Discarded pallets can be a hazard, increasing the risk of fire and attracting vermin.
There is a better way. At Plain Pallets, we have a comprehensive recycling program. We find ways to reuse pallets where appropriate. Otherwise, we turn them into useful things like wood chips, garden mulch, and DIY projects. Recycling pallets solves a waste issue, helps the environment and, because we pay for pallets, it can even be a source of revenue. Read on to find out more about the pallet recycling process, and how it can be of financial and environmental benefit.
Our team at Plain Pallets are industry leading suppliers of new and used pallets. We are committed to a sustainable environmental policy. We buy old pallets back so we can recycle them, or turn them into eco-friendly mulch.
What are the risks of retaining pallets?
It's a bad idea to let pallets pile up at your business. Not only can they look messy and take up valuable space, but having pallets pile up can be hazardous. For example:
Piles of exposed timber pallets can be a fire risk, endangering lives and infrastructure if left unattended.
Pallets have many gaps and holes. If you retain them at your property, they could attract unsanitary vermin.
Pallets stored in unstable towers could topple over, causing injury and disruption.
There is also an opportunity cost to keeping your pallets. You can make money by selling them back to us so that we can recycle them.
What is pallet recycling?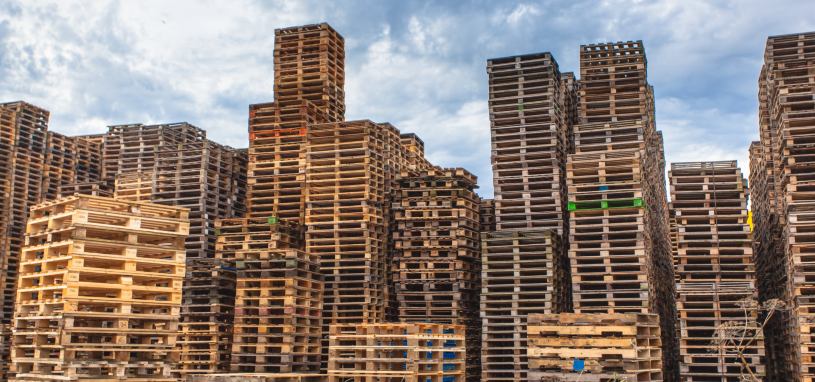 Pallet recycling is the process by which we find new uses for old pallets. For example, we recycle all the wood from wooden pallets. When we receive a used pallet, we examine it and identify any timber that can be reused as a pallet again. Then, we chip any scrap timber that cannot be put into another pallet and transport it to a third party so it can be processed into mulch.
We have also made our pallets available for DIY projects. Check out these imaginative uses for pallet furniture, and these unique products from students at a Melbourne school, all made possible by recycling wooden pallets.
We also recycle other materials, like plastic, cardboard and paper. Diverting these substances away from landfill is one additional way that we can reduce our ecological footprint as a business.
Is it OK to use recycled pallets?
We closely examine all the pallets that are returned to us. We select only the best pieces of wood to make used pallets. As a result, our used pallets are just as useful as new pallets — only they're better for the environment, and they don't cost as much. If you're considering buying our secondhand pallets, you don't need to be concerned about their strength and durability.
We stand by our recycled pallets and back them with a quality guarantee. In the unlikely event that there is an issue with any of our pallets, we will exchange them for free. Plus, we have full public liability insurance, so you can rest assured that our pallets carry no risk to your investment.
How do I sell you my pallets for recycling?
We buy pallets for recycling in several different sizes. Check out the information on our website, and get in touch by filling out the web form with your contact details and information about your pallets.
What else can I do to help recycle pallets?
If you'd like to become involved in the pallet recycling process, you can! Get in touch with us about selling us your used pallets. It'll get them out of your way, keep them from going to landfill, and even earn you some money. And we would be happy to supply you with mulch — made from old pallets — to keep your garden healthy and green.
With decades of experience, our crew is ready to recycle your pallets. Check out the Plain Pallets environmental policy to find out more.
Must Read
Plain Pallets on 29 April 2014
Do your pallets go the distance? If not, you may be losing money through replacement costs and damaged goods. Get the most out of your pallets ...
Read more
Plain Pallets on 11 March 2014
Pallets are always useful. See the many ways old pallets can be reused. Who knows, maybe your next house or business will have some great pallet furniture! ...
Read more