Staying safe while working with pallet timber
While timber pallets are an integral instrument in manufacturing and distributing goods, they pose certain dangers to those handling them. Pallets, in general, are the source of many workplace injuries every year, so it's essential to understand and use safety best practices when working with them.
At Plain Pallets, our timber pallets are built to last. We build them to meet high standards, to any shape and size specifications you need.
What are the dangers of working with timber pallets?
When your work involves the manual loading and unloading of objects using timber pallets, you need to ensure you protect yourself and those around you. Below are some of the most common situations in which an employee may be injured while handling pallets.
Overloaded timber pallets
When timber pallets are overloaded, the structural integrity of the pallet can be compromised. This means the pallet may:
Crack and fold in the middle, possibly resulting in objects falling on somebody or getting damaged
Splinter, causing pain to those handling the pallets without correct PPE (Personal Protective Equipment)
Handling pallets from above shoulder height
Handling items above shoulder height can strain your body, particularly your back. Many injuries occur from employees trying to lift an overloaded pallet, or straining themselves by not utilising correct lifting techniques.
Physical injury from falling timber pallets
If pallets are stored incorrectly, they present a risk to those working with (and around) them. Workplaces need to ensure that racking is set up, operated, and maintained according to the instructions of the manufacturer. It must be compliant with AS 4084:2012 - Steel storage racking.
How to stay safe while working with timber pallets
Inspect pallets before you start working with them
Manually check pallets before you begin working with them. Check for signs of:
Loose nails
Cracks or splinters
Bending of wood in the middle
Lower the maximum height of timber pallets
Handling items above shoulder height increases the risk of strained muscles and ongoing musculoskeletal problems. You can reduce the risk to employees by:
Reducing the layers of products stacked on pallets
Giving employees a platform to stand on
Ensuring suppliers do not overstack their pallets
Provide Personal Protective Equipment (PPE)
If you give your employees the correct PPE, and you'll minimise the risk of potential harm from splinters and crushing objects. PPE includes:
Protective gloves to prevent splinters
Protective gloves with enhanced palm grips so pallets don't slip
Safety footwear to protect feet if objects do fall
High-vis vests so employees are visible to each other, even from high above
Obtain safety machines
By providing employees with the correct loading equipment and tools, you'll minimise the dangers in your workplace. Loading equipment includes:
Scissor lift with a pallet ring turntable: Allows you to adjust the pallet height so handling objects can be conducted at a safe and convenient height.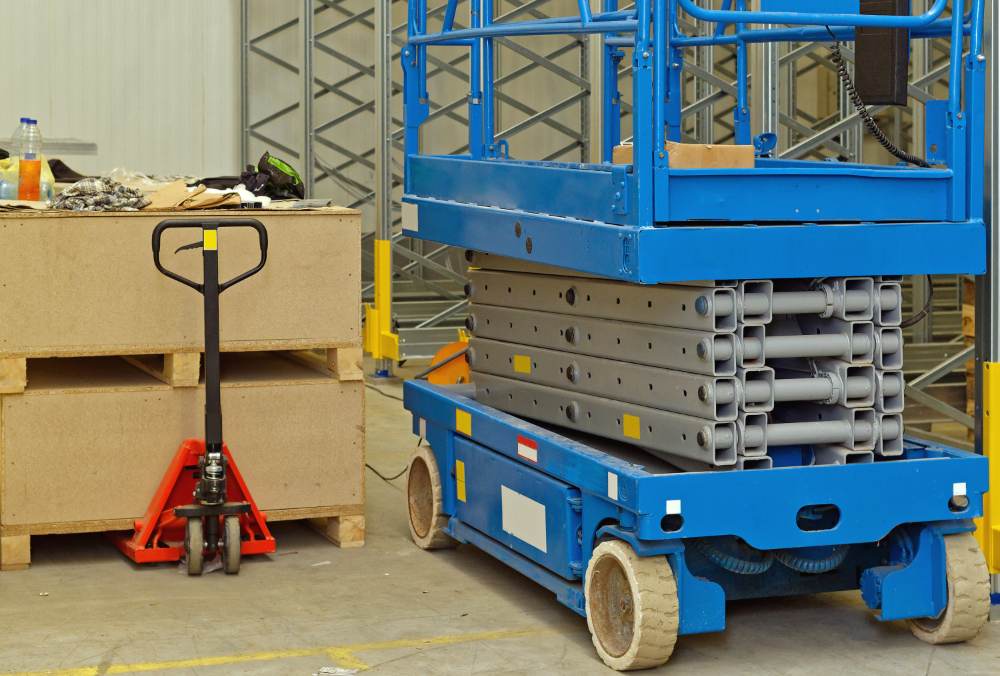 Safety skirts: These need to be used in conjunction with scissor lifts, to prevent loads from being crushed or damaged as the table is lowered.
Vacuum lifters: Reduce the force required to handle an object so employees can avoid over-extending themselves to move pallets.
Training
Making sure you and your employees are up-to-date with the most current safety practices will minimise any potential injuries in the workplace. WorkSafe Victoria provides extensive advice on things like:
Health and safety solutions for handling pallets above shoulder height
Loading and unloading pallets using different technologies
Pallet racking operation and maintenance
Every employee should know and understand the load bearings of pallets and pallet storage racks, as well as the correct operation of safety equipment and machines.
Why choose Plain Pallets?
Since our business first formed in 1974, we've grown to become one of Australia's leading providers of pallets. We're a family-run business, with a strong focus on professionalism, customer service, and environmental sustainability.
We pride ourselves on providing high quality, structurally safe, timber pallets. We also offer to buy back used wooden pallets, so we can repurpose or upcycle them — reducing how many pallets end up in landfill.
So if you're looking for high quality, structurally sound timber pallets, get in touch. We can build custom timber pallets for any shape and size specifications.
Must Read
Plain Pallets on 29 April 2014
Do your pallets go the distance? If not, you may be losing money through replacement costs and damaged goods. Get the most out of your pallets ...
Read more
Plain Pallets on 11 March 2014
Pallets are always useful. See the many ways old pallets can be reused. Who knows, maybe your next house or business will have some great pallet furniture! ...
Read more