It can seem hard to get excited about pallets. After all, how interesting can a pile of wood or plastic be?
However, pallets play such a large role in shipping that they can be said to "move the world". Slate even named pallets the single most important object in the global economy.
So businesses must weigh up the economic decision as to whether plastic or wood pallets are better suited to their needs. But in the midst of the green revolution, are environmental factors also affecting that decision? Are economics and environmental friendliness diametrically opposed? Or are they more akin than most would think?
Plastic Pallets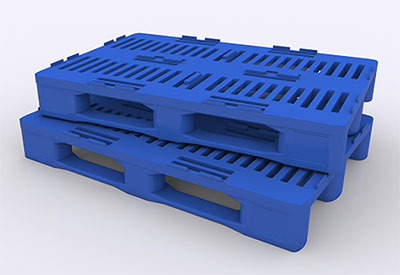 Plastic pallets are typically used for fresh food, freezer conditions and pharmaceutical and hygienic requirements. Plastic pallets offer a hygienic environment for products that require high levels of cleanliness, as they can be hot washed or chemically sterilized. While wood can be cleaned, it can't meet the same hygienic standards as plastic as it is porous and can retain moisture and bacteria.
But while plastic pallets are often advertised as eco-friendly, when damaged they cannot be repaired in the same way that wood pallets can. As plastic pallets are made from oil, they must be melted down to be recycled. However, they have a longer shelf life than wood.
Another benefit of plastic pallets is that they can serve a dual purpose. Manufacturers can pack products into a plastic pallet and the retailer can then use it as a store display. Plastic pallets are also ideal for use on pallet wrapping machines with their increased durability.  
The main benefit of plastic pallets is being able to re-use them – but it's important to remember that plastic pallets cost three times the price of wood.
Wood Pallets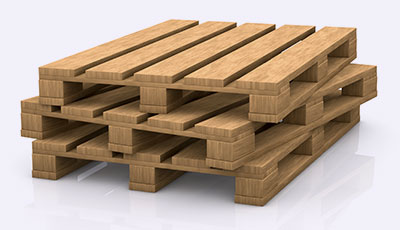 Wood pallets are less expensive than plastic pallets and widely used for a number of products. They also hold more weight than plastic, as they can hold between 1,500 and 3,000 pounds. For heavy items, wood pallets are your best choice.
They're also recyclable. Unlike plastic, wood pallets are made of a sustainable resource (scrap wood) which would otherwise be wasted. Whereas plastic pallets are stiff and difficult to repair, wooden pallets are easily repaired and can be reused. Due to the lower cost, typically wooden pallets don't have to be reused and are used to export good overseas.
However, wood pallets are not typically good for fragile items because of the fasteners on wood pallets. They pose a puncture hazard and could result in damaged goods, delayed arrivals, and unhappy customers.
Wood pallets can also give off moisture and harbor bugs. Depending on the products being shipped, this may not be a problem. As previously mentioned, products that require a high level of hygiene are better suited to plastic pallets.
Wood pallets do not have the same fire safety rating as plastic. Plastic pallets burn at a much higher temperature than wood, and so building fire codes play a role in the purchasing decision for many manufacturers.
Must Read
Plain Pallets on 29 April 2014
Do your pallets go the distance? If not, you may be losing money through replacement costs and damaged goods. Get the most out of your pallets ...
Read more
Plain Pallets on 11 March 2014
Pallets are always useful. See the many ways old pallets can be reused. Who knows, maybe your next house or business will have some great pallet furniture! ...
Read more