The difference between new and second hand pallets
When you need to transport something or store some goods, you need pallets. Depending on what type of business you own, the products you move, and the requirements you have, you may need new or secondhand pallets.
We have been in the pallet business for over 30 years now, and we know the value of both new and secondhand pallets. Secondhand pallets are not only good for the environment, they are also cheaper and a great option for you as a business owner. It is wonderful that more businesses are recognising the benefit of buying secondhand pallets.
If you are a business which specialises in high volume, one way shipping, or if you have a high rotation of stock turn over in your business, you need to know about secondhand pallets. If you are in the food transport or pharmaceutical business, you will need new pallets.
Read on to find out more about the differences between new and used pallets. If you would like to get a quote or to find out more, we are here to help. Just use the online form or call us directly for a chat about what you are after on 03 9545 7344.
Key differences between new and secondhand pallets
 
New Pallets
Secondhand Pallets

Durability

Reliable strength and durability
Consistent thickness
Consistent cleanliness
Consistent construction age

Reliable strength and durability
Appearance may be inconsistent

Sustainability

Made from new timber
Can be made using lighter 16mm timber boards for disposable pallets

 Remanufactured from existing pallets
Uses significantly less resources to create

Price

Delivery

Delivery to Melbourne and regional Victoria

Delivery to Melbourne and regional Victoria

Hygiene

More reliable hygiene for food and pharmaceutical industries 
Plastic pallets offer the best hygiene

Suitable for uses where hygiene is less important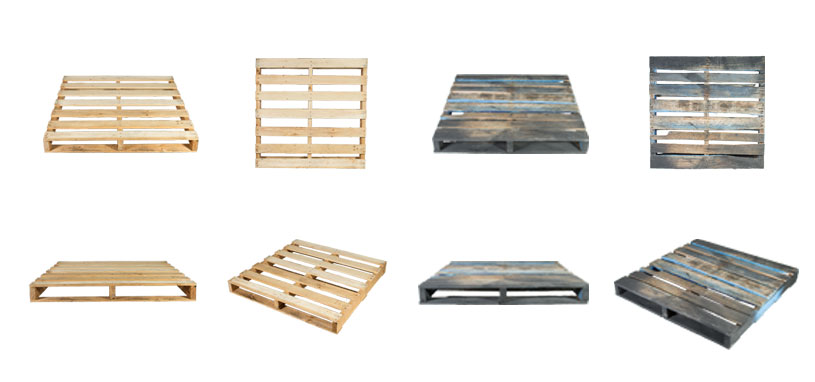 What's the difference between new and second hand pallets?
Durability
Our hardwood pallets are great for general and heavy duty uses, while our reclaimed pallets are all manufactured to a high standard so they are as good as new. No matter what type of pallets you are after - whether you need new pallets for a delivery or if secondhand is fine by you, the durability is never going to be an issue. We will always take the time to find out what you need your pallets for and can make a recommendation drawing on our years of experience.
Sustainability
Buying secondhand is always going to be kinder on the environment than buying new - but we do understand that sometimes you have to buy new for your business or industry. We will always make a recommendation given what your needs are, and will try to provide an environmentally conscious choice wherever possible.
Price
When you choose to use secondhand pallets you are going to be saving anywhere between 30 and 40 per cent on the overall cost. New pallets do come at a premium, but this is often unavoidable. At Plain Pallets we're committed to building a lasting partnership with you, so we will always try to meet your realistic budgeting needs wherever possible.
Delivery
No matter whether you choose new or secondhand, know that you won't be waiting around for your pallets to arrive. We understand the importance of good supply chain management and we won't be the ones to hold you up. If you are based in the Melbourne metropolitan area you can expect your pallets to arrive soon. For regional Victoria we'll have to give you a proper estimate. But whatever the job, we'll be as efficient as we can.
Hygiene
Some industries - namely the pharmaceutical, food and beverage, hospital supplies and wine businesses - cannot use secondhand pallets. This is for hygiene and compliance reasons. That is why we also offer new wooden pallets for sale in Melbourne to service our customers who need this option.
The Plain Pallets process
When you call us for a quote, we will ask you a few questions about what kind of storage and load requirements you have. This will generally be enough information for us to be able to recommend whether or not new or secondhand pallets are right for you. Ultimately, it is up to what you are comfortable with, and we are here to supply the pallets that you need. We would love to be able to provide you with a quote, or to answer any questions you might have about our new and secondhand pallets.
Call us on 03 9545 7344 or get in touch with us online.
Must Read
Plain Pallets on 29 April 2014
Do your pallets go the distance? If not, you may be losing money through replacement costs and damaged goods. Get the most out of your pallets ...
Read more
Plain Pallets on 11 March 2014
Pallets are always useful. See the many ways old pallets can be reused. Who knows, maybe your next house or business will have some great pallet furniture! ...
Read more