How to minimise the environmental impact of plastic in pallets
In today's environmentally conscious world, businesses everywhere are trying to find new ways to reduce, reuse, and recycle. One of the key areas that people are targeting is minimising the environmental impact of plastic. Plastic has a wide range of negative impacts on wildlife, and can take a full millennium to break down.
Curbing the amount of plastic we all use is urgent, and reducing harm from plastic in the pallet process is a great place to start. To help your business, we've put together the following pointers on how to minimise the environmental impact of plastic in pallets.
At Plain Pallets, we know a thing or two about conserving things for the next generation. In fact, we've been a family run business for three generations, and have been helping Australians with quality new and  second hand pallets for decades. We're proud of our environmentally sustainable work, and you can find out more about purchasing used wooden pallets.
Why you should care about sustainable pallets
Sustainability isn't just good for the environment — it can also be advantageous for your company's financial bottom line. Secondhand pallets, for example (which are just as sturdy and useful as new pallets) are substantially less expensive. When you make the switch from new pallets to second hand pallets, you'll start saving money immediately.
Plus, when you use sustainable wooden pallets, you can sell them back to us. This makes them even more affordable in the long run. And that's not to mention how much more appealing a business is to customers when it can prove a commitment to sustainability. So, from increasing sales to decreasing costs, there are many good reasons to take a look at sustainable pallets.
The advantages of using secondhand plastic pallets
In some industries — where easy sterilisation is a must — a plastic pallet might be the best option for your business. However, that doesn't mean you have to add to the total amount of plastic in the world. Instead, use our secondhand plastic pallets. They're just as strong, lightweight and durable as new plastic pallets, but they're far more sustainable. We stock a range of different sizes to suit both local and export businesses.
The advantages of secondhand wooden pallets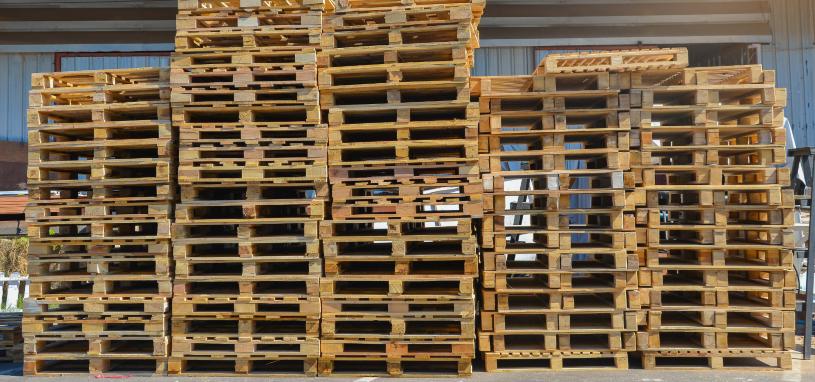 For many businesses, wooden pallets are a suitable substitute for plastic ones. Wood is a natural material that won't clog up landfill for centuries. And they can be cheaper in a variety of ways; not only are they less expensive than plastic pallets, but the thin pine boards are light and can save you money on freight.
When choosing wooden pallets, you might want to consider using secondhand ones. They're just as good as new ones, demand less of the environment, and are more affordable.
How we make our secondhand wooden pallets
Our process begins by buying back used wooden pallets. We inspect the quality of the wood and remove any plants that aren't fit for reuse. Those planks aren't wasted, however. We turn them into garden friendly mulch, which is free for pick up at our Clayton site.
We take the good wood from the used pallets, and use new nails to assemble reclaimed, remanufactured pallets. They're just as strong as new pallets, and come with full public liability insurance for your peace of mind. Using secondhand wooden pallets is a win-win for everybody; they're cheap, reliable, and far less wasteful.
Why choose Plain Pallets?
We all have a responsibility to help minimise the amount of plastic that ends up in landfill. At Plain Pallets, we've done the hard work to develop pallet solutions that are better for your budget, your reputation, and the environment. 
We sell a wide range of pallets, including:
New and used wooden
Secondhand plastic
Foam
Steel
We're intimately familiar with international standards across the world; we can provide you with pallets that suit specifications in the USA, Europe, and elsewhere. Working to your specifications and needs, we can help you find the pallet solution that's right for your business.
Our team at Plain Pallets has a proud history of innovation, and would be happy to help you find solutions that reduce the use of plastics. Read more about how our used wooden pallets can benefit both your business and the environment. 
Must Read
Plain Pallets on 29 April 2014
Do your pallets go the distance? If not, you may be losing money through replacement costs and damaged goods. Get the most out of your pallets ...
Read more
Plain Pallets on 11 March 2014
Pallets are always useful. See the many ways old pallets can be reused. Who knows, maybe your next house or business will have some great pallet furniture! ...
Read more