International Export and Australian Pallet Dimensions
Standard Australian Pallet Dimensions
The standard pallet specifications for transport of goods within Australia are: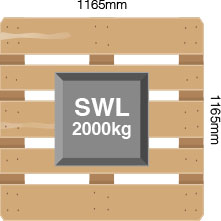 | Length | Width | Height | SWL |
| --- | --- | --- | --- |
| 1165mm | 1165mm | 150mm | 2000kg |
These Australian pallet dimensions apply to both wooden pallets and plastic pallets. Plain Pallets are suppliers of 1165 x 1165 pallets in Melbourne. The specifications of wooden vs plastic pallets are quite different, as are their potential uses.
To find out more about Australian pallet dimensions call one of our expert team on 03 9545 7344.
Plastic Pallets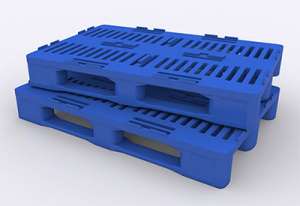 One of the advantages of plastic pallets is the ease of cleaning. Plastic pallets, unlike wooden pallets, are not porous and can be properly sterilised. This means that bacteria and odours have nowhere to hide, making plastic pallets ideal for goods that require a higher degree of hygiene such as pharmaceuticals and perishable foods.
Plastic pallets are also lighter than wooden pallets, which can make for a decreased exporting cost when shipping overseas. Plastic pallets can be made in the standard Australian pallet dimensions, 1165 x 1165 x 150mm for national use, or for international use, with pallet specifications depending on which country you are exporting goods to.
Wooden Pallets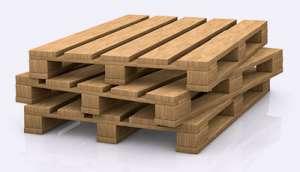 Although not as naturally sterile as plastic pallets, wooden pallets are stronger and can be repaired and recycled more easily. Standard Australian wooden pallet specifications dictate that pallets weigh between 30-40kg, and can hold up to 2000kg, whereas overseas pallets are usually half this weight, but also half the strength. Generally, heavy goods that require a higher SWL weight are usually more suited to the heavy duty 2 tonne Australian standard pallet. Plain Pallets are providers of heavy duty pallets in Melbourne.
To find the right Australian pallet specifications for your products, call Plain Pallets today on 03 9545 7344.
International Import and Export Pallet Specifications
When exporting goods overseas using wooden pallets, it is also vital to adhere to the international ISPM15 specifications. Additionally, there is no one international standard in pallet dimensions. Pallet sizes must vary according to the country receiving the goods, for example, a 1000 by 1200 plastic pallet for the US. These international pallet sizes apply, regardless of whether you are using wooden or plastic pallets. Also take note of the SWL specifications, which can vary between countries.
Standard pallet specifications for exporting to Europe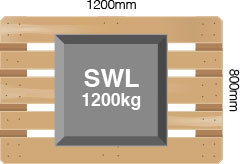 | Length | Width | Height | SWL | Entry |
| --- | --- | --- | --- | --- |
| 1200mm | 800mm | 144mm | 1200kg | 4 Way |
Standard pallet specifications for exporting to the USA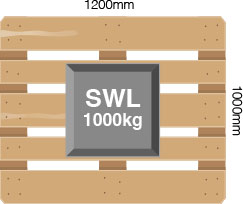 | Length | Width | Height | SWL | Entry |
| --- | --- | --- | --- | --- |
| 1200mm | 1000mm | 145mm | 1000kg | 4 Way |
Standard pallet specifications for exporting to Australia and Asia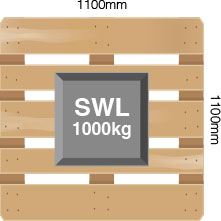 | Length | Width | Height | SWL | Entry |
| --- | --- | --- | --- | --- |
| 1100mm | 1100mm | 150mm | 1000kg | 4 Way |
For help and advice on exporting your goods overseas, call us on 03 9545 7344.
What if my goods won't fit into standard Australian pallet sizes?
Introducing… the custom pallet!
As well as supplying products conforming to standard pallet dimensions, at Plain Pallets we receive enquiries for other Australian pallet sizes, including 1.6m plastic pallets, and we also have 1.3 x 1.1 plastic pallets for sale. We will always do our best to accommodate individual needs and specifications. If standard 1165 x 1165 specifications are not suitable, we might need to better understand your shipping requirements. We have second hand 1170 x 1170 wooden pallets, and all sorts of other specifications, not just the usual 1165 x 1165 pallets common in Melbourne.
Plain Pallets also buy back old pallets from businesses that no longer require them and this means that we usually have second hand pallets suitable for much higher tare weights than those of the usual Australian standard pallet specifications, from 2 tonne and above.
Plain Pallets are able to create pallets to your specifications for goods that are uniquely shaped or oversized and will not fit into typical Australian pallet dimensions. We can supply you with half size pallets in Melbourne with our custom service, or any other Australian pallet dimensions that you need.
A note on the history of pallets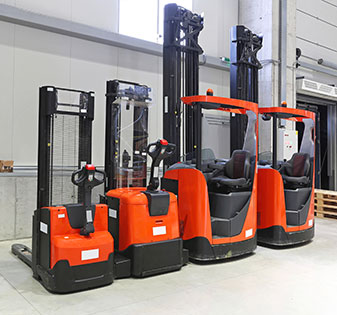 You may wonder why there is no one standard international pallet size, or why local Australian pallet dimensions (1165 x 1165mm) are different from international pallet specifications for exporting to Australia (1100 x 1100mm). This is all due to the history of pallet development. Almost a century ago, when forklifts came into common use, each country decided upon a pallet size that would fit their local forklift size. In Australia the forklift tray was 8 feet wide, so the Australian pallet dimensions became, in the old imperial units of measurement, just under 4 feet. This has left the world with differing pallet specifications in each country. With the massive cost associated with changing infrastructure to support a singular set of standardised international pallet specifications, it looks like the current standard pallet sizes won't be changing too soon.
Call us for a free quote on 03 9545 7344 or find out more about our custom pallets here.
Must Read
Plain Pallets on 29 April 2014
Do your pallets go the distance? If not, you may be losing money through replacement costs and damaged goods. Get the most out of your pallets ...
Read more
Plain Pallets on 11 March 2014
Pallets are always useful. See the many ways old pallets can be reused. Who knows, maybe your next house or business will have some great pallet furniture! ...
Read more