How to ensure second hand pallets are safe for reuse
Wooden pallets are in consistent demand throughout Australia. They have a simple construction, and, when compliant, fulfil their purpose of transport and storage effectively. A survey conducted in 2017 reported a total of 140 million pallets in the Australian market, with demand for an additional 56 million per year. With this number of pallets in circulation, how do you know whether a second hand pallet is safe for reuse?
Plain Pallets is a manufacturer and recycler of wooden pallets and a trusted source of second hand pallets for your needs.
Australian regulations
Australia complies with the international standard ISPM 15, which covers the use of solid wood packaging material. The purpose of this standard is to prevent the spread of bacteria and timber pests across international borders.
As a requirement, pallets must undergo a treatment process that kills all these parasites and pests. Either heat or methyl bromide are acceptable methods of treatment. The test method is stamped on the pallet with the letters HT for heat treatment or MB for methyl bromide.
Checking a second hand pallet for a treatment stamp will indicate whether it has been treated, what kind of treatment it has received and therefore what applications it may be suitable for.
Basic inspection of second hand pallets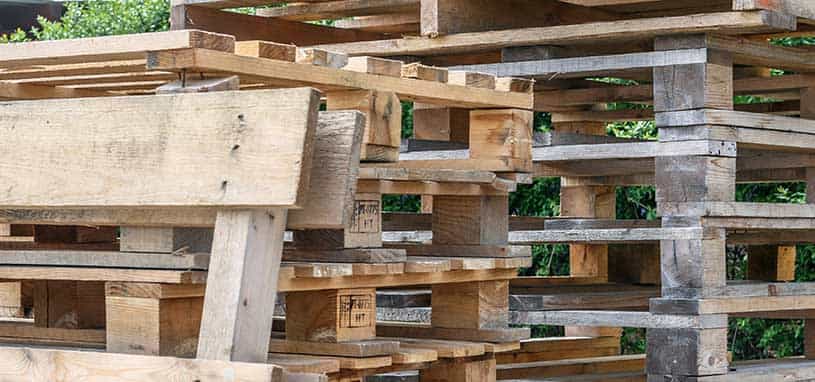 Most of the problems with second hand pallets can be picked up with a simple visual inspection. You can check for the following main defects:
Are there any protruding nails? These need to be hammered into place or replaced so that no one suffers an unnecessary injury when handling the pallet. Rusty nails can cause infections making the injury quite serious.


Are there any noticeable weak or broken pieces of wood? Are any pieces of wood missing? The solid construction of a pallet is what gives it its strength. Weak points in the structure can cause the collapse of a pallet and loss or damage to stored goods.


Is there any sign of water damage or rotting on the pallet? Once wood begins to rot, it loses strength leading to the same problems described above. It is worth looking at water ingress and rot quite closely because much of the damage may be internal and worse than it first appears at a casual glance.


Can you see any signs of chemical spills? One of the hazards of using second hand pallets is the uncertainty of what they were used for before. Some chemicals are extremely hazardous to humans and it is advisable to avoid any pallet that has signs of unknown chemical leaks and spills.
Pallet Sizes
Most pallet racking in Australia is designed for the CHEP sizing of 1.165 m x 1.165 m. However, import and export activities mean that many Asian and Euro pallets find their way in to the Australian market. Each source country has their own standard size, meaning that a company in Australia using a variety of second hand pallets may end up dealing with multiple different sizes.
This creates a hazard in terms of stacking and using pallet racks. It is important to use a consistent size of pallet that matches your pallet racking in order to prevent collapses, damage to goods and potential injuries.
Sizing is not the only issue when using foreign sourced pallets. Weight load ratings vary too.
Standard pallets in Australia weigh between 30 - 40 kg and are capable of carrying loads up to 2,000 kg.
International standards vary and imported pallets may only be rated for half this load — i.e., 1,000 kg.
Knowing a pallet's history
All the checks outlined above help to assess whether a second hand pallet is safe for reuse. However, physical inspections cannot reveal what a pallet has actually been used for in the past. Obtaining this information may reveal some other hazards that are not visible with the naked eye.
Plain Pallets is a trustworthy supplier of quality tested new pallets and second hand pallets too. We refurbish and repair international pallets giving you peace of mind that the second hand pallet you buy from us is safe for use. Our pallets are heat treated to meet the ISPM 15 accreditation and are stamped as such.
Contact Plain Pallets to source your safe, durable and strong second hand pallets.
Must Read
Plain Pallets on 29 April 2014
Do your pallets go the distance? If not, you may be losing money through replacement costs and damaged goods. Get the most out of your pallets ...
Read more
Plain Pallets on 11 March 2014
Pallets are always useful. See the many ways old pallets can be reused. Who knows, maybe your next house or business will have some great pallet furniture! ...
Read more