How to dispose of plastic pallets
Australia has an aggressive approach to waste reduction and sustainable living. Each year a comprehensive report details the amount of plastic consumed and recycled. The latest report available on the Department of Agriculture, Water and Environment website shows the following:
Annual plastic consumption of 3.5 million tonnes
Annual plastic recycling of 393,800 tonnes (or 11.5% of consumption)
These figures show that even with an aggressive approach to recycling and sustainability, more work is needed to protect Australia's environment from plastic waste.
Plain Pallets supply new and secondhand plastic pallets. We can help you determine if your plastic pallets have reached the end of their life and what to do with them if they have. Contact us for more information.
What are plastic pallets made of?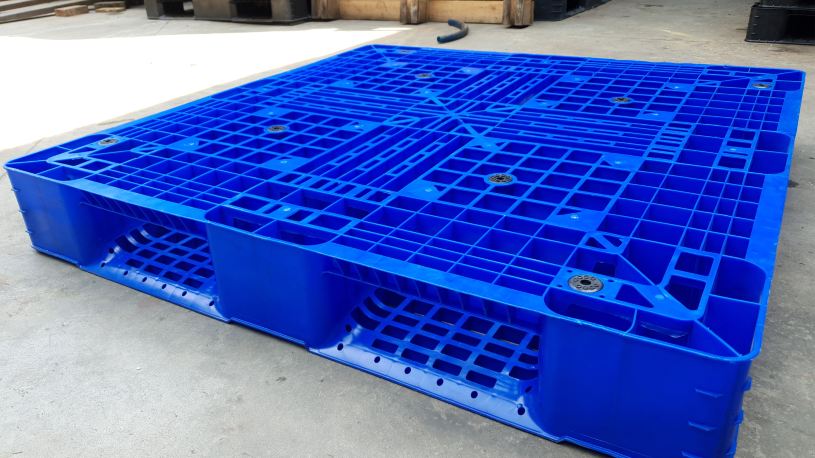 The two main types of plastic used for pallets are high-density polyethene (HDPE) and Polypropylene (PP). Both these materials are hard and strong, providing the right combination of properties for the packaging industry. Plastic pallets are in robust service, meaning that they carry heavy loads, and they suffer many bumps along the way. Despite this heavy wear and tear, plastic pallets can last for 15 years and beyond if used for purposes and applications that match their design.
Can plastic pallets be reused?
Plastic pallets can be reused several times over, even in sterile service. This versatility is one of the advantages of plastic pallets over wooden pallets, especially in the food or pharmaceutical industries. Plastic does not absorb chemicals, water or organic materials. As long as plastic pallets are properly cleaned, they are reusable without the risk of passing contamination from the previous load to the new product.
Cleaning plastic pallets is as easy as wiping them down with an all-purpose cleaner. Power washing or automatic pallet washing machines can remove heavier grime. For some applications, it might be necessary to disinfect a plastic pallet to prevent contamination. This requirement is especially relevant for food or pharmaceutical applications.
Once a pallet is damaged or has reached the end of its life, it is no longer reusable. At this stage, the pallet should be cleaned and sent for recycling.
How plastic is recycled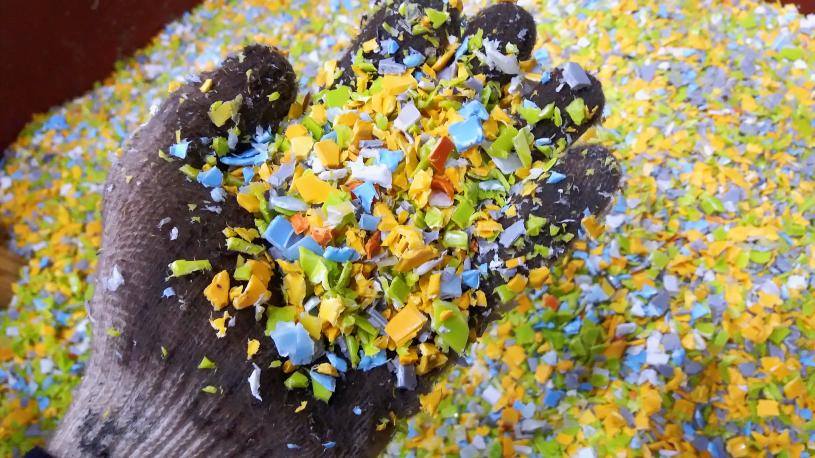 Plastic is collected and sorted into like materials before processing. The recycling process follows several steps:
Pallets are washed and cleaned. Plastic must be as free from contamination as possible before processing because the quality of the recycled plastic is affected by impurities that remain from their previous use.
Plastic products are shredded into flakes so that they can be fed into the next stage of recycling.
The heart of a plastic recycling plant is the melting and extruding process. Recycled plastic emerges from the extruder in long strands.
The final step is creating pellets or granules by passing the extruded plastic through a die and chopping it into the desired shape.
Recycled plastic looks very similar to virgin material because it comes in the same form as freshly manufactured plastic. Manufacturers often mix virgin and recycled plastic to compensate for any drop off in properties due to impurities in the recycled plastic. The more contaminants there are in recycled plastic, the higher the percentage of virgin plastic that must be added.
What is recycled plastic used for?
Several manufacturers across a wide range of products and industries use recycled plastic in their raw materials. Bottles, food containers, bags, and many other consumer goods contain recycled plastic. Timber replacement products are also popular because of the longevity of plastic and the fact that no ongoing treatment is necessary for maintenance.
Where to recycle plastic
Victoria has embarked on an ambitious plan to upgrade its infrastructure for recycling plastic and glass. $8.1 million in funding was allocated to upgrade and build new recycling centres across the state. This investment will boost the plastic recycling volumes by 23,000 tonnes per year, which equates to an additional 40% capacity. The Australian government is also investing $600 million in recycling investment across the nation.
Sustainability Victoria produces many resources to help residents and businesses recycle waste. A list of council waste and recycling centres is available on their website so that anybody can find the closest centre to them.
Plain Pallets and sustainability
Plain Pallets has environmental policies created in line with Sustainability Victoria and EPA Victoria. We demonstrate our commitment to sustainability by our regular consultation with government agencies and our commitment to community expectations.
Talk to Plain Pallets for expert advice.
Contact Plain Pallets for expert advice about which plastic pallet and recycling. Our technical experts help you understand which pallet is right for you and how to dispose of your end of life pallets.
Plastic pallets are a great solution for businesses looking to improve sustainability practices. Contact Plain Pallets to get a quote for your pallet needs.
Must Read
Plain Pallets on 29 April 2014
Do your pallets go the distance? If not, you may be losing money through replacement costs and damaged goods. Get the most out of your pallets ...
Read more
Plain Pallets on 11 March 2014
Pallets are always useful. See the many ways old pallets can be reused. Who knows, maybe your next house or business will have some great pallet furniture! ...
Read more