Export to Europe with Euro Pallets
Looking to export to Europe and need the Euro pallets to make sure your goods arrive safely? Get in touch with us on 03 9545 7344, or get a quote.

Do you have a business that requires goods to be exported to Europe using Euro pallets? Perhaps you're in the midst of a personal relocation. Regardless of your motive, Plain Pallets have ensured the safe delivery of exports to Europe for thousands of Australian individuals and businesses.
Don't allow your goods to get caught up at customs and quarantine, only to be sent back to Australia. Our Euro pallets are designed in Melbourne to the specifications of international standards, so your goods arrive when you need them to.
What are Euro pallets?
Euro pallets are responsible for exporting your goods to Europe. They are different to standard pallets in their specifications and how they are manufactured.
When exporting to Europe, the route and international customs requires specific Euro pallets. Businesses and individuals have failed to export goods when attempting to use standard or other pallets instead of the required Euro pallets.
These uniquely constructed pallets are designed in Melbourne to ensure they are compliant with international standards.
Euro pallet specification & dimensions
Our Euro pallets are built in Melbourne and designed specifically for exporting to Europe. They are manufactured and tested at Plain Pallets, and only exact and professionally made Euro pallets will be deemed compliant and export approved.
The specifications of Euro pallets are as follows:
| Dimension | Capacity |
| --- | --- |
| 1,200mm x 800mm | 1,200kg |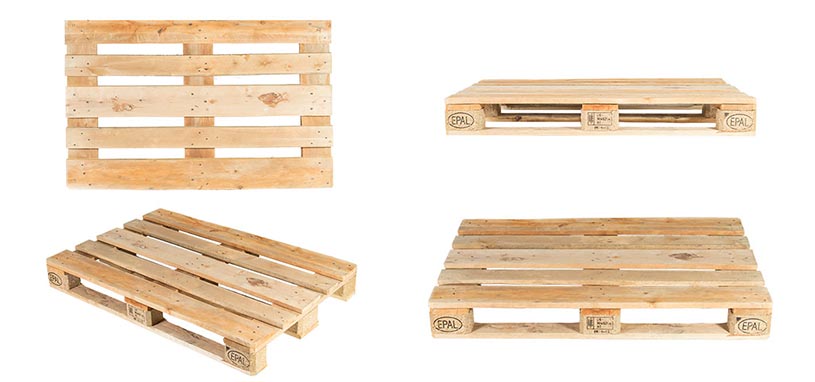 Export pallets outside of the Euro pallet specifications above will not meet regulations and will not be allowed to export to Europe.
Euro pallets compliance
To export and receive goods out of Australia and into Europe, various standards and compliances must be met. All Euro pallets manufactured through Plain Pallets are compliant with all EPAL standards. The Euro pallets have also been treated for ISPM 15 compliance.
Meeting compliance standards will ensure that your goods are handled safely through export and won't get delayed in customs or quarantine. Failing to use Euro pallets that adhere to the correct specifications will delay your goods or return them back to Australia entirely.
Euro pallets vs Standard pallets
Plain Pallets have been in the pallet industry long enough to know the inherent value in Standard pallets and Euro pallets, and just how different these pallets are. If you have access to Standard pallets and had hoped to export your goods using these pallets, your shipment will not be export approved and goods will not make it past customs or quarantine.
Contrasting pallets may only appear marginally different, but their specifications and capacity are designed specifically for their unique tasks and are not interchangeable.
The specifications of Euro pallets and Standard pallets are as below:
| Type of Pallet | Dimension | Capacity |
| --- | --- | --- |
| Standard Pallet | 1,165mm x 1,165mm | 2,100kg |
| Euro Pallet | 1,200mm x 800mm | 1,200kg |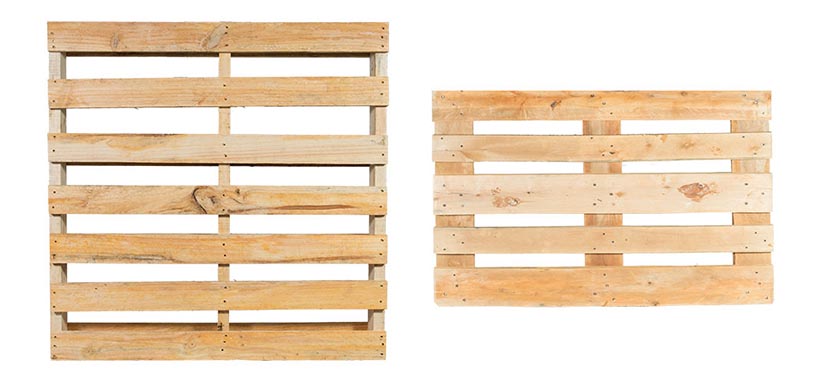 When are Euro pallets required?
You will need to source compliant Euro pallets if you are exporting goods to Europe. Euro pallets are the only export option, and the only way to ensure your goods are regulated and pass through customs and quarantine.
Depending on the material and nature of your goods, there are recommended ways to pack your Euro pallets. First of all, your goods must not exceed 1,200kg per pallet. This is an area where the Plain Pallets team will happily assist.
Things to remember about Euro pallets
Before you call Plain Pallets to organise your Euro pallets, there are a few important things to keep in mind:
Euro pallets are different to Standard pallets -- they are not interchangeable.
Using pallets that do not meet Euro pallet specifications will not be deemed compliant.
Euro pallets must meet EPAL standards and be treated for ISPM 15 compliance.
Euro pallets are used for exporting to Europe only.
Exporting and distributing your goods in an international market can be daunting, so allow the experts at Plain Pallets to give you the right tools to ensure your goods arrive safely in Europe.
Talk to the experts in exports. Get in touch with Plain Pallets on 03 9545 7344, or get a quote.
Must Read
Plain Pallets on 29 April 2014
Do your pallets go the distance? If not, you may be losing money through replacement costs and damaged goods. Get the most out of your pallets ...
Read more
Plain Pallets on 11 March 2014
Pallets are always useful. See the many ways old pallets can be reused. Who knows, maybe your next house or business will have some great pallet furniture! ...
Read more