Custom Pallets for Eversweet
Winning Clients and Indulging Our Sweet Tooth
Clients don't get much sweeter than this. Eversweet – an Australian wholesale supplier of lollies, chocolate and all manner of sweet things – recently came knocking on Plain Pallet's door asking for custom pallets for their various discount lolly shops. Having been established in 1987, Eversweet is a world-class business who distributes their products to thousands of retailers Australia-wide. Quality recognises quality, and so we were flattered to be let in on Eversweet's new interiors project.
Having undergone a change of ownership in 2004, Eversweet has grown dramatically thanks to a new vision and new packaging innovation, amongst other things. As a result, they required a new, fresh look to their stores. Plain Pallets was happy to lend a hand.
To help Eversweet achieve their new look, we built a series of custom wooden pallets and set to work painting them. The brief specified that the paint job had to be colourful to fit in with their lively, candy-bright aesthetic, so our team had paint specially ordered in from Dulux. It took a good many coats to meet our quality standards, but they came out looking like sunshine.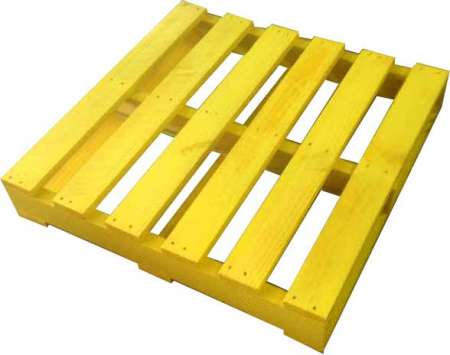 Due to roll out into stores next year, Plain Pallet's custom pallets are going to act as the foundation for stacks on stacks of sugary goodness. Jobs like this really highlight the diversity of pallets, and we take great joy in seeing them used for a variety of applications.
Contact us see what you can do with pallets.
Must Read
Plain Pallets on 29 April 2014
Do your pallets go the distance? If not, you may be losing money through replacement costs and damaged goods. Get the most out of your pallets ...
Read more
Plain Pallets on 11 March 2014
Pallets are always useful. See the many ways old pallets can be reused. Who knows, maybe your next house or business will have some great pallet furniture! ...
Read more