Where to buy custom pallets in Melbourne
The vast majority of pallets used to ship goods conform to industry specification. However, certain products require custom pallets due to their unique size, weight, or dimension. 
While the primary use for pallets is to transport and store goods, they've become increasingly popular due to their rustic, warehouse aesthetic. From transporting goods to moving cargo, finding the right size pallet is key to functionality.
At Plain Pallets, we manufacture pallets to any size and any weight loading according to our customer needs. Contact us for a quote, or make an inquiry today.
Custom pallets for warehouse efficiency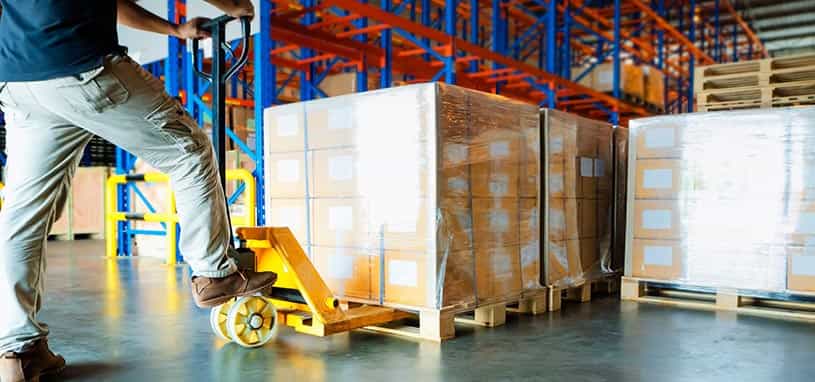 Every business has a need to keep operating costs to a minimum and this includes warehouse and logistics operations. Warehouse managers must consider warehouse size, workflow, and stacking arrangements to maximise the efficiency of their operation.
Custom pallets can remove bottlenecks that would be impossible to solve by any other means. It could make the difference in being able to locate the goods in a way that improves workflow and maximise the use of space. While the pallet itself may be slightly more expensive than a standard size pallet, the savings in efficiency could more than compensate for it. 
However, it is important to remember the safety aspects of using custom sizing. Pallets must match pallet racks in terms of sizing to prevent collapses and damage to product and goods.
Size ranges and weight loading
Our standard size wooden pallets are built with a 1,800 kg weight loading and have a size of 1,165 mm x 1,165 mm. Custom pallets commonly fall in the range from 600 mm x 600 mm to 3,600 mm x 3,600 mm. However, Plain Pallets will work with clients to achieve any custom size that suits their direct requirements.
Turnaround time and customer service
Our workshops offer a high standard of customer service with a standard turnaround time for custom pallet orders of two business days. In addition, we work with our customers to achieve the look and feel that they are aiming for. This includes sourcing special paints and delivering the finished product to the business premises. 
Where have custom pallets from Plain Pallets been used?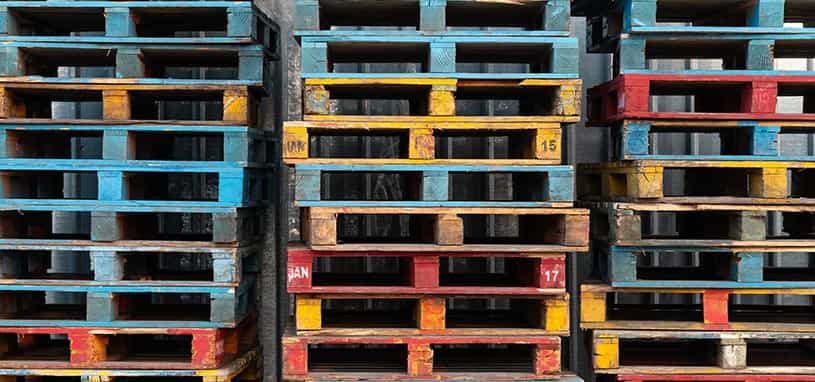 When Eversweet, an Australian wholesaler of lollies, chocolates and sweets, revamped their packaging and stores, they chose Plain pallets for their custom pallets. We sourced the perfect bright yellow paint for their theme and delivered a range of custom pallets for their in-store stacks of products. 
In a completely different application, Plain Pallets supplied seating arrangements and tables for Section 8 Bar in downtown Melbourne. As an added boost to the industrial deco theme, we used our used RECO pallets as a base for this project. These pallets are made from reclaimed hardwood and new pine bearers making them both sustainable and durable. We even delivered through the narrow lanes of the Melbourne CBD.
Sustainability
Sustainability is a high value in the Australian market. Using second hand pallets for non-shipping and storage applications is an attractive solution to promote this value. For designers looking to achieve an industrial feel, second hand pallets, as opposed to custom pallets, create a great atmosphere and demonstrates a commitment to sustainability.
Public liability insurance
Public liability insurance can easily be overlooked when using custom pallets, but it is a vital component of protecting your business. Plain Pallets supplies all our pallets - including custom pallets - with insurance cover for damages that occurs as a result of a faulty pallet. Even though the likelihood of a pallet failure is low, it is important to have protection against damages to goods, property or injuries. Some custom pallet manufacturers may not offer insurance as a cost cutting approach, but this leaves customers vulnerable to losses.
Why choose Plain Pallets for your custom pallets?
Plain Pallets is a family run business with more than 40-years experience supplying pallets to the Australian market. We have a strong focus on sustainable practices with a specialisation in second hand pallets. Having witnessed many small businesses grow into major clients over the years, Plain Pallets is committed to offer a professional service and quality product to every client. In this way we hope to assist your business to grow and succeed.
Find out more about Plain Pallets and our custom pallet sizes to see how we can help your business. 
Must Read
Plain Pallets on 29 April 2014
Do your pallets go the distance? If not, you may be losing money through replacement costs and damaged goods. Get the most out of your pallets ...
Read more
Plain Pallets on 11 March 2014
Pallets are always useful. See the many ways old pallets can be reused. Who knows, maybe your next house or business will have some great pallet furniture! ...
Read more